Rec Splitter
This article shows how to split a recording containing pauses in multiples record files.
The RecSplitter application
Launch the RecSplitter application and select your rec file. You should obtain a graphical representation of your recording. In this representation, data are represented chronologically from left to right. Each blue line represents a data at a particular timestamp. So all grey spaces show where there are no data in the recording (see figure below).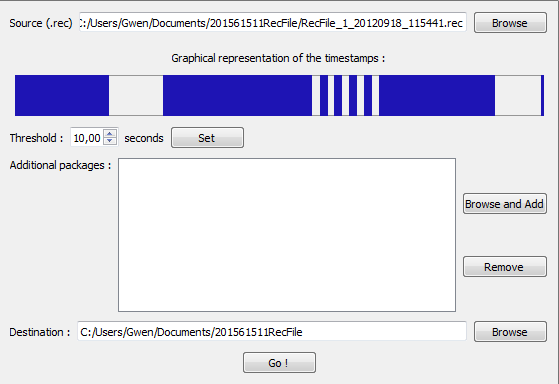 Select the Threshold and click on "Set". The threshold corresponds to the maximum authorized time between two timestamps. As a consequence, if no data is recorded during a period corresponding to this threshold, the recording will be cut here.
When Set is clicked, you should obtain red bold dashes lines indicating where the cuts are.

If you agree with this, then click on the Go button. Note that you can select a different path for the destination path. The default folder is the same as the input folder, creating sub-folders for each part of the recording.
If you used a special RRM for your recording, you have to load the appropriate package (use the "Browse and add" buttons). Otherwise you will get an error.